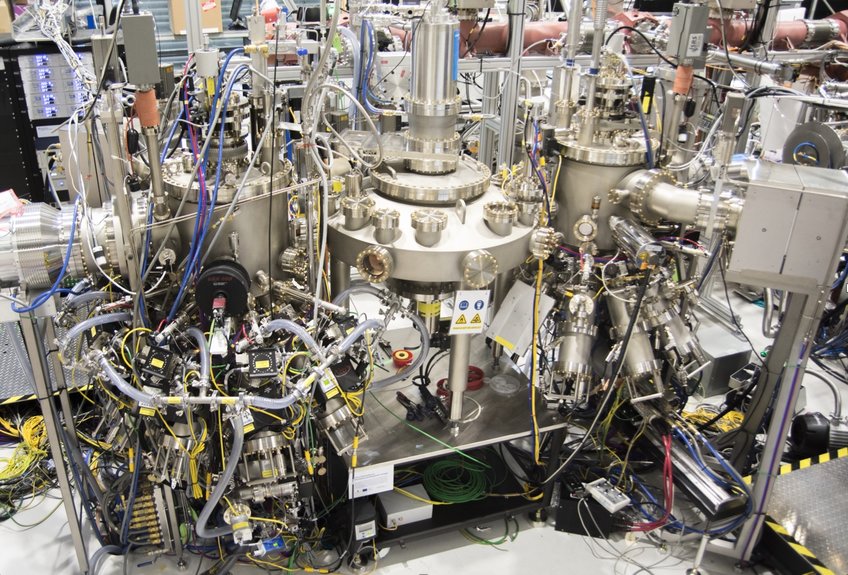 Oxide-nitride molecular beam epitaxy system
Investigation of oxide-nitride layer structures is currently of great importance as these material classes have enormous potential for a new generation of more energy-efficient nano-devices. In the so-called spintronics nanobase elements, the information is not transmitted via charge currents (electrons) but via spin currents, which do not show any energy loss due to the electrical resistance. At the interfaces between the oxide and nitride layers, a variety of physical interactions are produced, e.g. non-collinear or topological spin structures. These structures are particularly suitable as sources of spin currents. Oxide and nitride layers and their combinations are therefore key components to innovate in the field of nanobase elements and information technology.
Thanks to the EFRE support, the NISE department of the Max Planck Institute Microstructures Physics has acquired an ultra-high vacuum molecular beam epitaxy cluster dedicated to grow and study oxide and nitride thin films. The combination of these materials will offer new insights not only for basic research but also for innovative applications. With this facility we will develop innovative materials and novel components for spintronics devices.
The interface to technology transfer will be strengthened by our partner Fraunhofer IMWS Halle.