Construction of a new building for the MPI of Microstructure Physics
Latest information
August 2022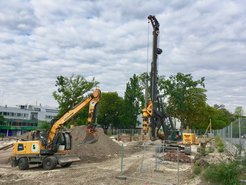 February 2022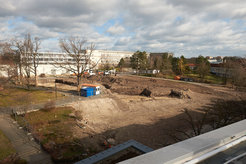 September 2021
January 25th, 2021
On January 27, 2021, the felling of trees for the new building will begin. The authorities of the city of Halle have given permission for this on 13.01.2021.
September 4th, 2020 Press conference and press release
On September 4, 2020, the Max Planck Society and the City of Halle held a joint press conference on the planned new building at the Max Planck Institute of Microstructure Physics. The mayor Dr. Bernd Wiegand, Heike Kiko from the MPG General Administration and the directors of the institute Prof. Joyce Poon and Prof. Stuart Parkin presented the new project.