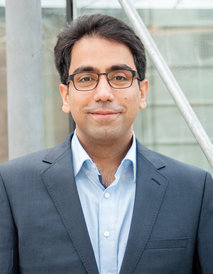 Synthetic Materials and Functional Devices
Dr. Ali Shaygan Nia is a group leader in the Chair of Molecular Functional Materials at Technische Universität Dresden and joined the Department of Synthetic Materials and Functional Devices (SMFD) at Max Planck Institute of Microstructure Physics in January 2023. He received his B.Sc in Chemical Engineering (Polymer Technology) from Isfahan University of Technology (Iran) and obtained his Master's and Ph.D. in Polymer Chemistry from Martin Luther University of Halle-Wittenberg (Germany). He received his Ph.D. with the highest honor (summa cum laude) on "graphene-based catalyst."
Academic Employment
06/2019-present: Research Group Leader, Technische Universität Dresden, Germany.
1/2023-present: Research Group Leader, Max Planck Institute of Microstructure Physics, Germany.
Research Interests
His current interests include the exfoliation, functionalization, and intercalation of emerging 2D materials via wet chemistry methods, the study of their physical properties, and the development of functional 2D material inks, pastes, and formulations for printing technologies.
Scientific Achievements & Recognition
Molecularly engineered black phosphorus heterostructures with improved ambient stability and enhanced charge carrier mobility. Advanced Materials
Ambient-Stable Two-Dimensional Titanium Carbide (MXene) Enabled by Iodine Etching.
Angew. Chem. Int. Ed. 60, 8689-8693 (2021)
Scalable one-step production of electrochemically exfoliated graphene decorated with transition metal oxides for high-performance supercapacitors.
Nanoscale 13, 15859-15868 (2021)
Emerging 2D Materials Produced via Electrochemistry.
Adv. Mater. 32, 1907857 (2020)
Ultrafast Electrochemical Synthesis of Defect-Free In2Se3 Flakes for Large-Area Optoelectronics.
Adv. Mater. 32, 1907244 (2020)
Graphene as initiator/catalyst in polymerization chemistry.
Prog. Polym. Sci. 67, 48-76 (2017)
Click chemistry promoted by graphene supported copper nanomaterials.
Chem. Commun. 50, 15374-15377 (2014)