Prof. Xinliang Feng elected as new acatech Member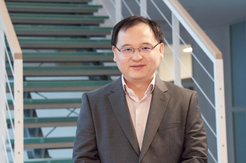 Prof. Xinliang Feng was elected as a new Member of Germany's National Academy of Science and Engineering (acatech) on October 19, 2021. The election is an award for outstanding achievements in science and technology and at the same time an honorary mandate: acatech advises policymakers and society on strategic engineering and technology policy issues.
As the national academy and voice of the engineering sciences in Germany and abroad, acatech brings together more than 600 personalities from science and industry. Members from the fields of engineering and natural sciences, medicine, the humanities and social sciences are admitted to the academy on the basis of their scientific achievements and reputation.
Members deal with topics such as biotechnology, energy and resources, healthcare technologies, or mobility. Positions, studies, discussions and other writings on socially and economically relevant topics are published. The results are made available to politicians, industry and interested members of the public.