Experience science at first hand: Pupils from the Saaleschule Halle visit the MPI
Pupils visited the MPI in Halle as part of a science practical week.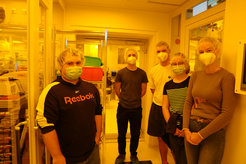 "The institute is open to new technologies, and it is impressive that this kind of research is taking place in Halle. Many people probably don't know that the institute is working on such important research that has such a big impact on society." says Luise Ringel, a pupil at the Saaleschule.
Pupils from the Saaleschule Halle in the elementary and advanced physics courses visited Halle's school laboratory (Schülerlabor) and in the same breath also gained interesting insights into the Max Planck Institute of Microstructure Physics. Colleagues from the various departments gave laboratory tours and were available to questions. It was an all-round exciting exchange between students, teachers and staff. Both the students and the teachers were impressed by the work, research and facilities at the MPI.