Milestone reached: Max Planck Institute celebrates topping-out ceremony
The completion of the structural work is ahead of schedule.
​The completion of the new research building is being reached in big steps. In the presence of Saxony-Anhalt's State Secretary for Science, Thomas Wünsch, Heike Kiko, Head of the Construction Department of the Max Planck Society, emphasizes the importance of this research location for the future of research.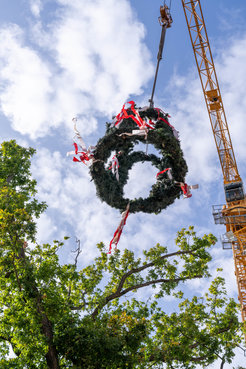 After only one and a half years of structural work, the Max Planck Institute of Microstructure Physics celebrates its topping-out ceremony. On five floors, the new research building offers a gross floor area of more than 12,000 m2 and creates space for laboratories, offices and a 700 m2 clean room. After completion in mid-2025, 160 employees will work in the new building in three scientific departments and in administration. The new building will create the conditions for making significant research contributions to socially relevant topics in the future, for example data storage and more energy-efficient computers.
On behalf of Patrick Cramer, the President of the Max Planck Society, Heike Kiko thanks all the builders, craftsmen, the architects and engineering offices, the surrounding neighbours as well as the city of Halle and the state of Saxony-Anhalt.
Construction began in August 2021. The foundation stone was ceremoniously laid in December 2022, and the shell of the new building, for which HTI Hoch-, Tief- und Industriebau GmbH was responsible, was completed just ten months later. The completion of the new research building is planned for 2025. Dr. Dirk Sander, Scientific Construction Coordinator of the Institute, affirms: "This construction project is going very well and is even progressing faster than originally planned. This is impressive evidence of the good and trusting cooperation between the Max Planck Society, the state of Saxony-Anhalt, the city of Halle, the university, the neighbouring institutes on the Weinberg Campus and, last but not least, within our extremely committed planning team."
"The new building consists of three volumes. The laboratory, office and clean room functions interlock logically and also come together in the interior and exterior spaces: The forecourt, foyer and central atrium will in future provide space for meetings and interdisciplinary exchange," explains Daria Grouhi, managing director of Burckhardt Architekten. In future, the building will be the Institute's calling card and a reflection of its considerable research.
(KW)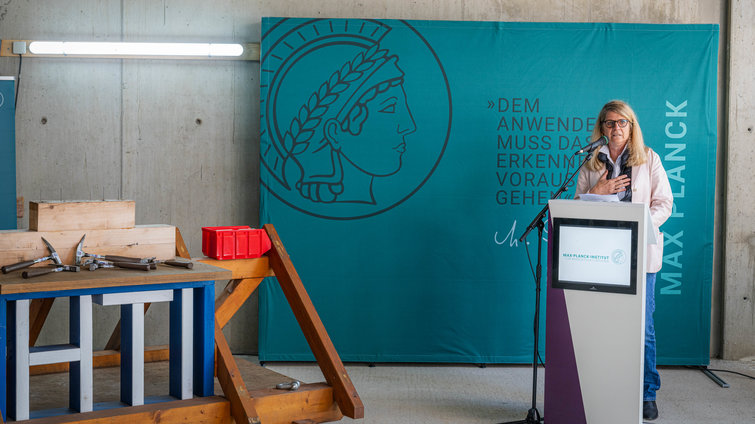 Heike Kiko, Department Research Building of the Max Planck Society representing the client, welcomes the guests to the topping-out ceremony.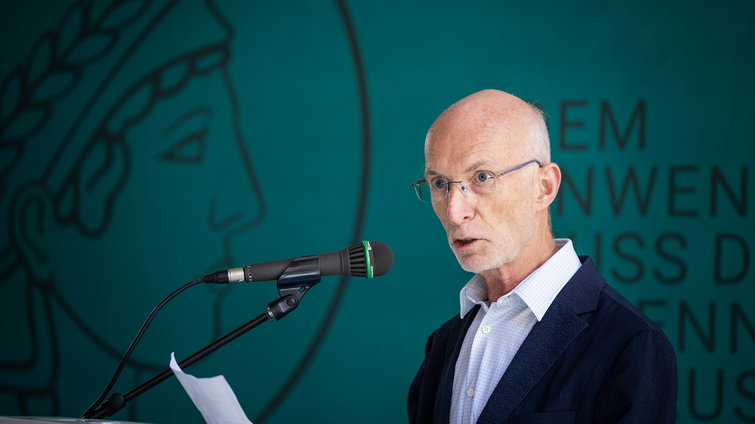 Prof. Stuart Parkin, Managing Director, thanks the client and the participants for the successful work.
Daria Grouhi, Managing Director Burckhardt Architects, addresses the assembled guests.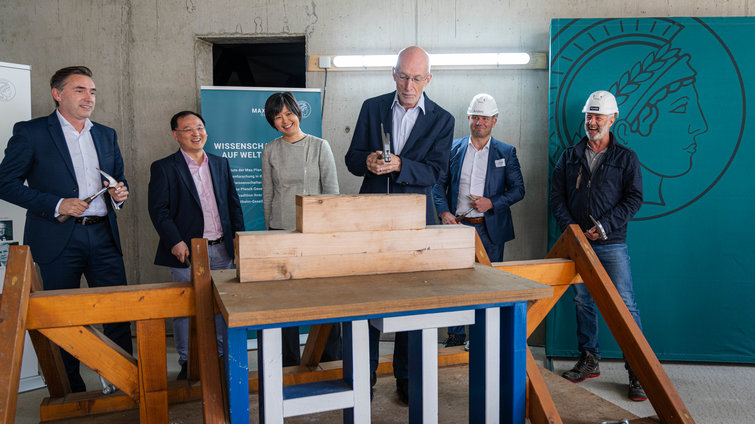 State Secretary Thomas Wünsch, Directors Xinliang Feng, Joyce Poon, Stuart Parkin, Lars Anders from MPG's Headquarter and Technical Operations Manager René Kunze (from left to right) symbolically hammering the last nail into a model of a roof truss.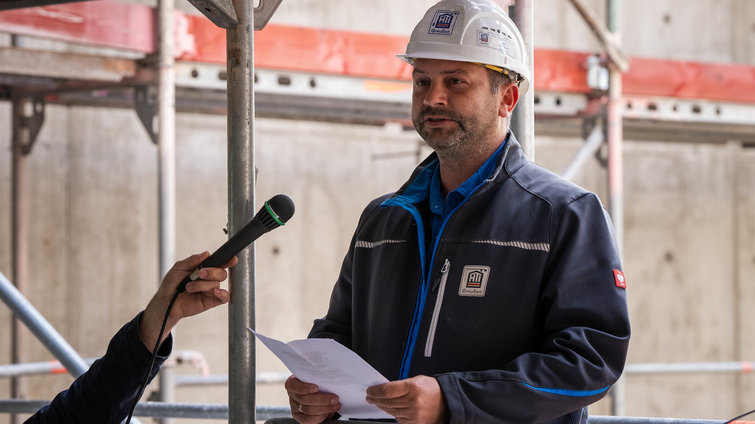 Marcel Georgi, senior construction manager of the construction company HTI Greußen, gives the topping-out speech.