Scientific Concept and Research Goals
The Needs of Digitalization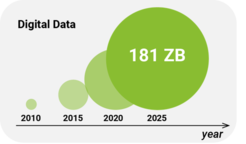 The worldwide amount of digital data shows a drastic increase within the last decade. Compared to 2010 the data volume of barely 2 zettabytes increased more than 30-fold till 2020. Up to 2025, a further increase of up to over 180 zettabytes is expected.
The world prepares for a digital decade. Throughout the ongoing digitalization, new challenges arise: How to handle the increasing need for data storage and their energy consumption? Needed is breakthrough research in the field of energy-efficient data storage and advanced and energy-efficient technologies for the manufacturing of electronic components. The PLASMA-SPIN Energy Core of Excellence will address these points, combining the Know-how of the MPI of Microstructure physics in Spintronics with the Know-how in Plasma technologies of the Karazin University.
With the long-term aim of developing energy-efficient materials and nanoscale devices, our CoE tackles two European Commission´s priorities - the #European Green Deal, #Europe fit for Digital Age.
Strong Partners & International Network
The CoE will be included in the infrastructure of the Karazin University, School of Physics and Technologies and work in close collaboration with the local scientists from the fields of plasma physics and the application of plasma and ion beams for thin films deposition and modification. Together with scientists and engineers from the Computer Science department of Karazin University, with experience in scientific instrumentation and plasma power and control units, it gives a lot of possibilities in the design of unique plasma and ion beam sources for novel technologies.
The MPI of Microstructure physics supports the CoE with his experience in spintronics and atomically engineered materials as well as with their unique equipment for thin films deposition, fabrication of devices, and analysis.
Additionally, the CoE will be supported by a Scientific Advisory Board (SAB) out of thematically connected and interested researchers, who will accompany the scientific development of the CoE and embed the CoE in an international valuable network of partners of interest and future cooperation partners.