Focus on innovation: Max Planck Institute and Kharkiv join efforts
Federal Ministry funds German-Ukrainian core of excellence for spintronics research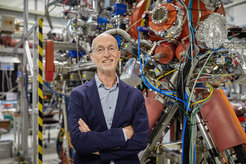 The Federal Ministry of Education and Research (BMBF) is providing 2.5 million euros over the next four years for the German-Ukrainian Core of Excellence. Out of twelve project concepts, the four best were selected for funding, one of them at the Max Planck Institute of Microstructure Physics.
"Plasma-Spin-Energy" is to be located in Kharkiv in the future. The aim is to utilise novel plasma technologies for the production of spintronic components and thus create next-generation electronic devices and computing. The Russian war of aggression against Ukraine has also affected Ukrainian science, with Kharkiv in particular being severely damaged. The core of excellence will be set up in exile in Halle from 2024 and relocated to Kharkiv during the course of the project.
Prof Stuart Parkin, Director at the Max Planck Institute of Microstructure Physics, explains: "The core of excellence "Plasma-Spin-Energy" combines theoretical expertise in plasma science with experimental experience in advanced plasma technologies and spintronics. In cooperation with the V.N. Karazin Kharkiv National University (Ukraine), we want to develop atomically engineered spintronic structures for energy-efficient storage devices and computers. The focus of the research is on plasma-assisted deposition of thin films, using controlled ion beams to control the film properties."
Strengthening German-Ukrainian cooperation
On 8 and 9 November, Federal Minister Bettina Stark-Watzinger received the Ukrainian Minister of Education and Research Oksen Lisovyi in Berlin to honour 30 years of German-Ukrainian scientific cooperation and to sign a joint declaration of intent on its continuation and expansion.
Federal Research Minister Bettina Stark-Watzinger emphasised: "Germany stands firmly by Ukraine's side, both militarily and civilly. With the four German-Ukrainian cores of excellence that have now been selected, we are providing Ukraine with specific support for a modern, research-strong science system and a functioning transfer to the economy and society. They are also an important contribution to the reconstruction of the country. They are future centres of scientific excellence in Ukraine, led by a top international researcher."
Background to the selection process for the Core of Excellence
The selection of the Core of Excellence was based on a competitive, expert-supported procedure. The programme is divided into a concept phase (18 months) and the actual implementation phase (four years). For the concept phase, which has already been completed and in which twelve core of excellence candidates were funded, up to 100,000 euros per project were available to develop a viable concept for a core of excellence.
The concepts served as the basis for the final meeting of the selection committee. As a result of this meeting, the four best core of excellence candidates were chosen to receive funding for the implementation phase.